Unlike any other mission-driven center of entrepreneurial opportunity, Pittsburgh Yards® is the result of years of collaboration amongst residents in Pittsburgh and NPU-V, funders and other neighborhood-focused stakeholders.
But all are welcome to take part in the new life and activity born at Pittsburgh Yards—new opportunities for partnership, collaboration, learning and growth. A community of makers and dreamers and passionate partners is what differentiates this neighborhood anchor. And at Pittsburgh Yards, this same community commitment will ensure its mission is fulfilled.
We invite you to meet two young Black female small business owners who are on their own journeys of entrepreneurship and have been helped in part by Pittsburgh Yards' mission to support entrepreneurs of color.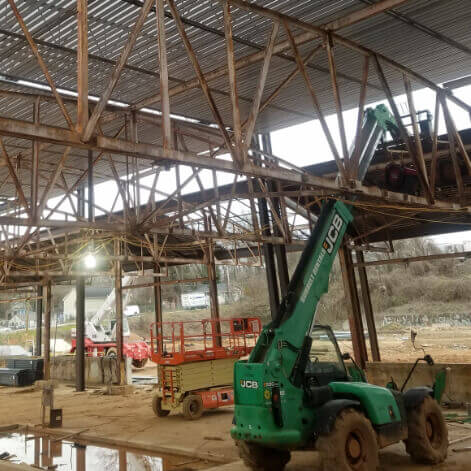 The site, formerly referred to as 352 University Avenue, is actually named Pittsburgh Yards as a result of the community-led naming group's efforts. Community members developed several concepts, launched a call-in campaign to gather resident input on the proposed options and announced the final selection at an engagement meeting on October 12, 2017.
HONORING HISTORY WHILE CELEBRATING COMMUNITY, ONE BRICK AT A TIME
Participants from the Pittsburgh Yards update meetings joined forces with community volunteers to create an engraved brick trail project at Pittsburgh Yards. The inspiration behind the project was the history of the people of color who settled in Pittsburgh to work at the Atlanta and West Point (A&WP) rail yards. These rail yards ran adjacent to the land Pittsburgh Yards sits on today, which is presently the Atlanta BeltLine Southside Trail – West. The volunteers worked with the Pittsburgh Yards Development Team and formed a non-profit organization for this "neighborhood transformation" initiative — a spur trail called Atlanta & West Point tRAIL.
Together, they launched PY Community, Inc., an independent, volunteer-based organization that honors this history and offered community members personalized bricks that were installed on the Pittsburgh Yards site. They also raised money to install other landscaping elements reminiscent of the old railroads. Their intention was to offer a positive and inspirational experience for Pittsburgh residents to connect with the new development, their neighbors, the Atlanta BeltLine and other outdoor experiences on the future green space… Paving a Trail to Connect the Community, One Brick at a Time!
We invite you to check out the bricks during your next visit to Pittsburgh Yards!