Meet HYPE Founder and CEO Kristina Newton
Innovate. Demonstrate. Elevate. Advance. Sustain.
( I.D.E.A.S.)
"A significant gender gap has persisted throughout the years at all levels of science, technology, engineering, and mathematics (STEM) disciplines worldwide. Even though women have made tremendous progress towards increasing their participation in higher education, they are still under-represented in these fields." United Nations
Happy International Day of Women and Girls in Science!
Kristina Newton, an NPU-V resident and the founder and CEO of HYPE Hope for Youth, Inc., currently based at Pittsburgh Yards®, is a true trailblazer in the tech world. Her organization's mission is to empower girls of color to pursue 21st-century careers and opportunities in computing and technology. We asked Kristina about her journey as a woman in the tech world, her experiences, and if she thinks things will get better for girls in STEAM.
Tell you a bit about yourself, Kristina. How did you start a career in Tech and the tech industry?
My name is Kristina Newton; I am the founder and CEO of HYPE. HYPE stands for Hope for Youth through providing education.
My background is in computer engineering. I got my degree in 2006 from Prairie View University, an HBCU in Prairie View, Texas, right outside Houston, Texas.
I got my degree as a computer engineer. I was the first person from the university to declare a computer engineering major, so I was the first person to graduate from Prarie View with a bachelor's degree in computer engineering.
How did you start a career in Tech and the tech industry?
I got my start in Tech mostly because I didn't know what I wanted to do or what I wanted to major in in college. I didn't have much engineering or computer science exposure in high school; I was passionate or excited about dancing. I was on the dance team and traveled a lot with them doing dance competitions, so I decided to major in something related to dance or the creative arts. On the other hand, my father didn't like that as my primary pursuit, and so you know, he challenged me to think about different career options and opportunities. He suggested that I might want to do engineering because he noticed some things I was interested in around the house. I was always playing on the computer, trying to figure out and solve things and tinkering. He also recognized that my test scores were excellent in math and science. That suggested that I might be good at computer science even though it wasn't something I had ever explored or knew anything about. I decided to pursue computer engineering at my dad's advice, understanding that this would be a great foundation and opportunity to set myself up well economically.
Post College and Accenture Consulting
What factors influenced your decision to be an entrepreneur and inspired your entrepreneurial passion?
So I graduated from college and got a job at an Accenture consulting firm in Atlanta, Georgia. I moved to Atlanta in 2006 and started my career as a technology consultant, working for many companies. I traveled across the United States, helping prominent businesses and large corporations figure out technology solutions to some business problems. That helped me get exposure to many different industries. It also helped me understand the value placed on Tech skills, on being analytical and understanding how to manipulate data and how to use technology to solve an everyday problem. The world was beginning to embrace technology a lot more software engineering, data analytics, integrating different systems, and things like that, so understanding those systems was valuable. It kept me employed for many years. What it did not do was keep my passion growing, and while I did well financially, I also began to understand that after five or more years, the work we were doing and the work that was ultimately taking away jobs.
We were creating Technology Solutions for things that were mostly done manually; we were automating systems and helping processes move faster by removing many inputs. I knew, just being a black woman, that the people dependent on these manual jobs were likely people who looked like me, my family members, and my brothers. I didn't feel super excited about helping these big businesses pad their pockets and make more money at the expense of others who, like me, probably never had a chance to be exposed to the skills that would have kept them employed. So those were some of the reasons why I began to get dissatisfied with my job, and it had me thinking about other ways I could love the work that I did every day and still use the skills I had to develop in computer science and engineering and technology and use those skills for good. That is what influenced my decision to be an entrepreneur, which influenced my decision to ultimately quit my job and begin looking into opportunities where I can help more people who look like me. I wanted to help people who grew up like me, who maybe didn't have a dad or figure in their lives to steer them toward tech and college.
I wanted to be that person who could be a cheerful voice, a positive influence, a mentor, and steer them towards potentially exploring something like Tech. Even though they never were exposed to it in middle or high school or didn't think it was something they could do, they would enjoy or even be good at it. That inspired my entrepreneurial passion, so I founded HYPE in 2017.
What does it mean to be a founder to you?
Being a founder means you have an idea that you feel you are one of the few people, or you might be the best person to bring that idea to life. So I found that my experience as a Founder has been one where I know that as a black woman who didn't have exposure to Tech in middle or high school but entered this career and gained that experience, what it was like to be a black woman in the tech industry. It was very lonely. I had feelings of insecurity, doubts about whether or not I belonged there, not seeing representation, and not feeling like I had mentorship. All these experiences led me to become a founder who could be passionate and empathetic and make a difference in the lives of the young people HYPE serves.
What is HYPE Inc., Hope for Youth Inc.?
HYPE is an organization that works with middle and school girls, and we work and provide after-school programming to help them explore technology; our mission is to empower the next generation of young black and brown girls to thrive as future leaders in technology by not only giving them skills and exposure to the different opportunities in Tech. Hopefully, this also helps them establish a sense of community, allowing them to develop confidence in themselves and what they can do and helping them grow and serve in leadership so that as they matriculate and enter into the tech workforce, they understand their responsibility to give back and to serve as a leader to be focused on doing good and making a positive impact in your community versus just making money and being self-serving, so that's what HYPE does.
What makes HYPE different from other organizations on a similar path?
One thing that makes HYPE different from other organizations is that we have a clear and narrow focus on the most historically marginalized and underrepresented black and brown girls in technology. We work directly with Title One schools and other community-based organizations that serve and support these girls and focus on providing a high-touch experience. We provide high-touch experiences; we know who our students are. We're doing more than just providing a free resource online or giving access to curriculum to teachers. We are training teachers and educating students. We offer, host, and facilitate summer camps after school programs, and our instructors go into the communities to meet students. That's one way that's HYPE apart from many other STEM organizations and programs. Still, one of our biggest differentiators is that keen desire to develop leaders, and we implement that in a few different ways. One is through a Leadership Academy that HYPE Alumni get a chance to participate in as high school students, where they learn College and Career readiness. They get access to resume writing and interviewing skills. Then they also get a chance to apply to be a part of a summer internship as a high school student, and it is a paid internship.
Only a few organizations are paying high schoolers to intern within their companies, and so that's one thing that we do. The other thing we do is HYPE International Experience, which ties to our desire to develop leaders. The trainer model is unique in that the trainers we're training are our students, so they are students who have gone through our school coding program and have developed these tech skills. They are growing as leaders in their community, gaining more confidence in their ability to code and create websites. Now they can travel overseas and lead a one-week coding camp for other kids and under-resourced communities worldwide. That is called the HYPE International Experience, and we have had the opportunity to do those experiences, one to Nicaragua and one to Jamaica, in the past. It has been life-changing for the students who have gone. They have begun to internalize what it means to give back; they have also experienced greater confidence in their knowledge due to teaching other students, which helps them retain the skills they have gained in our program. They are getting opportunities to add a fantastic resume builder to their resumes to their college scholarship applications through the opportunity to travel abroad, and this opportunity is free. We paid all expenses for the passports for the girls because, for 90 percent of them, this is their first time leaving the country. We pay for boarding and transportation, and meals while they are there. They lead a coding camp for five days, and then they also get a chance to do a fun and cultural exposure day where they leave the school of the community we teach and participate in fun activities. The trainers get an opportunity to do some sightseeing and immerse themselves in the culture we have been in for the week. So that's, again, a life-changing experience, and I don't know of any other program or organization that makes the deep and intensive Tech, skills building, leadership development, and application through internships and international travel. We cover the whole gambit, and that's one way or one thing that sets us apart from any other organization I know of.
What is your biggest challenge while founding and working to move HYPE forward?
Now, one of our biggest challenges was recovering and navigating Covid and the pandemic and shifting from an in-person to a virtual and hybrid model. Also, navigating the kind of tension and scaling and wanting to serve more students while keeping true to our high touch engagement culture that we have been able to provide that our students are attracted to. So it's made us think innovatively and creatively about, you know, what this model looks like, there the experience that every student gets is the same across the board. Yet, we are still growing our team while balancing a budget and ensuring that we can be sustainable over the next 10/20/50 years. The growth pain that we are in right now, the challenge that we are experiencing, and you know, the strategic direction we are aligning ourselves around is all focused on being able to scale but keeping that consistent experience for excellent for every one of our scholars that we serve and support.
What is next for HYPE? What are your hopes for the next generation of girls in technology?
Expanding to provide regional models, we see ourselves investing in the development of our alumni as they go to college, having them start chapters, HYPE chapters, at their schools where they can, you know, lead an after-school program in their community. I hope they stay connected to each other, have a support system that we have established, and create regional chapters outside of metro Atlanta, outside of Georgia. We see ourselves with HYPE communities in Detroit, Chicago, New Orleans, Alabama, New York, and Washington, DC. That's where we see HYPE, and I would love for everyone to follow up, stay tuned, root us on, and support us financially because your donations do matter and go towards a great cause. It is an honor to be the founder of a non-profit where we get a chance to invite the community to be a part of what we are doing, and the impact we are making is a win for HYPE. It is a win for everyone who supports the community, the girls' families in our programs, and, ultimately, the companies they begin to work for and become extraordinary leaders in the future.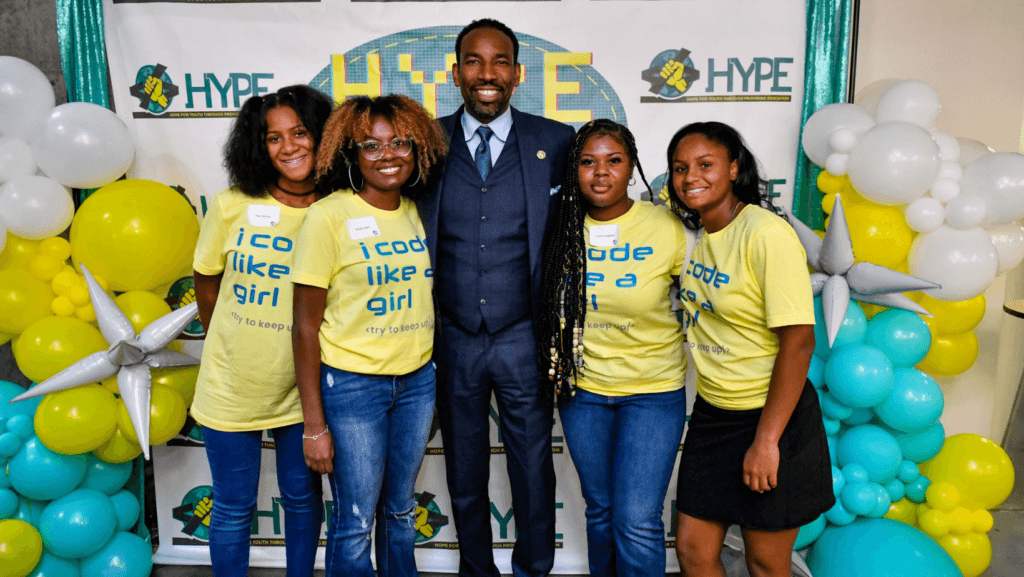 Why did HYPE choose Pittsburgh Yards® as the base for their organization?
I chose Pittsburgh Yards® as my work location because of its investment in the community and its focus on community-related matters. I live close to Pittsburgh Yards®, so the commute is effortless. I was attracted to the open space they had, the access to and not only the tangible benefits like the co-working and conference rooms and to the business center. I also like access to resources from experts who might host workshops or OVU Yoga on the rooftop, all of the things that support the holistic development of a founder. Pittsburgh Yards® is also our base because it is in the center of the communities we serve and support, and we are 100% aligned with their mission and the resources they provide to founders like us. So, my experiences working at Pittsburgh Yards have been great. I have been able to network and connect with other people who are just as passionate about their businesses and be a part of a community of people who understand the hustle, the struggles, and the benefits of being a founder in Atlanta.
Would and why would you recommend Pittsburgh Yards® to other businesses and entrepreneurs?
Would you recommend Pittsburgh Yards® to other business leaders?
I recommend Pittsburgh Yards® for these reasons: it is very affordable and a great community, and I think one of the biggest mistakes you can make is trying to do it alone, even if you are a solopreneur. If you want to go fast, go alone, but if you want to go far, go together; I think that Pittsburgh Yards® is allowing us to accomplish that by going far together, being a part of a community and meeting other people, and having that support that you might not be able to get on your own.
HYPE Pittsburgh Yards® Instagram Takeover
In honor of Black History Month, we're celebrating with an Instagram takeover by some of our business leaders at Pittsburgh Yards®. We invited some business leaders to share their stories, experiences, and wisdom using posts, stories, or reels on our Instagram platform—and we hope you'll tune in!
Kristina and her HYPE team will take over our Pittsburgh Yards Instagram page on Feb 16th, all day; tune in!

How can everyone get involved in and support HYPE
All images: HYPE
Thank you, Kristina!
BACK TO NEWS